Brought to you by
On Cathedral Peak, Yosemite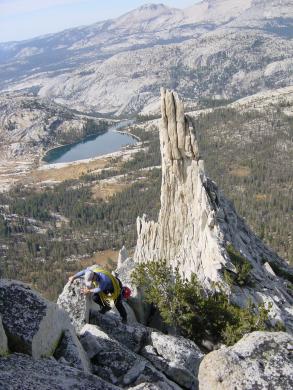 Near Zermatt, Switzerland
What is it about the mountains, anyway?
I'm not really sure how I developed such a love for the mountains - I mean, I grew up in the relatively flat hills of Cincinnati. As best I can tell, it started with my Mom's childhood experiences with her favorite uncle, who was a gamekeeper in the German Black Forest; even though she was a city girl, she loved the forest and the country (at least to visit).
When I was a child, we often spent part of the summer visiting relatives in Germany; one visit was always to my Onkel Karl and Tante Lydia, who ran a small Pension in the Bavarian forest, near the Czech border. The alpine foothills were nearby, and it's there that I bought my first Bergstock and acquired the lifelong habit of collecting hatpins wherever I travel. The Grosser Arber (1456 m.) was my first mountain peak, at the age of 6.
I didn't put sticky rubber to rock until much later in life - when I was 32 I visited Grand Teton National Park and took a beginner's class from Exum. We did hip belays! At least we used harnesses, rather than tying in with a bowline on a bight... It took me a few years after that trip to find partners and discover climbing gyms, and then to find people and places to climb outside. Climbing outside is where it's at - I've gained a great appreciation for the restorative capacity of time spent in the mountains.
On Fresno Dome, Southern Yosemite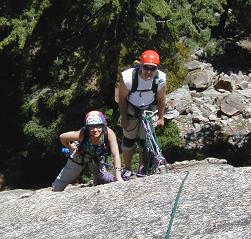 I'm a weekend warrior, and always will be. By today's standards, I'm not really very good at it at all, and there's a good chance that I'll never get much better. A little, but not much. The great thing about climbing is that it doesn't have to matter.
There are as many ways to play the climbing game as there are climbers, just about. It's certainly possible to turn it into a competition - either for yourself, against the rating numbers, or against others. There are solitary pursuits and social ones; very safe ones and very dangerous.
The version I play, usually, is "traditional" or just "trad" climbing. (This means that the rope team leader brings up and places the protection on the climb, rather than using (just) pre-placed bolts. It also means that the protection is only used to arrest a fall, not to aid upward progress.)
It's one of the finest ways I know to spend time. Climbing outdoors, especially when leading, is both a physical challenge to make the moves, as well as a mental challenge to read the rock to figure out where to go, which nubbin of rock will hold my weight, where to put another piece of pro, how to build an efficient belay. And there are shiny metal pieces of equipment to play with!
It's a never-ending challenge. If I'm feeling weak or scared, there are easier routes. If I'm feeling bold, there are harder ones to get spanked by. There's very little boredom factor. I'm not a huge fan of nights on the ground, but they're (usually) worth the days in the open, to use Doug Robinson's phrase.
Sairecabur, The Atacaman Desert, Chile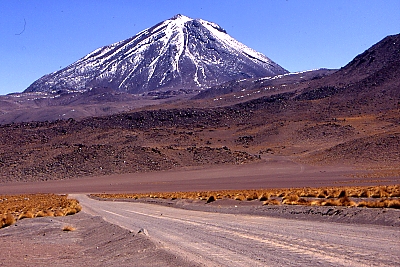 We are lucky to have a place near that American temple of granite, Yosemite National Park - so lots of our climbing takes place in or near the park. There's also a good bit of peak-bagging in "The Range of Light" - the Sierra Nevada, including a few "fourteeners". We've also taken a few trips - Joshua Tree, Red Rocks, Chile, Switzerland - for climbing and hiking. It's a great excuse :-) I'm not what the Germans would call a "Vereinhirsch" - someone who joins a lot of clubs, but I enjoy being a member of the American Alpine Club (especially because reading Accidents in North American Mountaineering has such an odd effect on our non-climber friends), and the Sektion Alpen.Net, the Internet-base "virtual" section of the Deutschen Alpen Verein (I always sign summit registers with "DAV" after my name, just to make people wonder.).

Trip Reports
If you're not climbing, one of the next best things is reading about climbing. I've written a few myself:
My first attempt on Shasta
Climbing with Karlee
More climbing with Karlee
Getting off the couch
Leading adventures
Thunder on the mountain
My first fourteener
Atacaman volcanoes (coming soon!)
Hiking in Switzerland
Success on Shasta (coming soon!)
Mt. Langley and Mt. Whitney
An attempt on Mt. Hood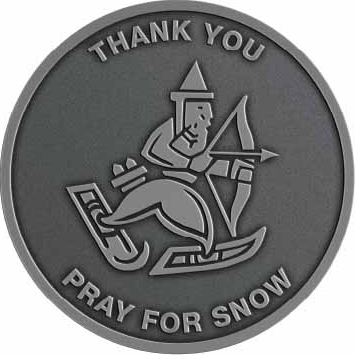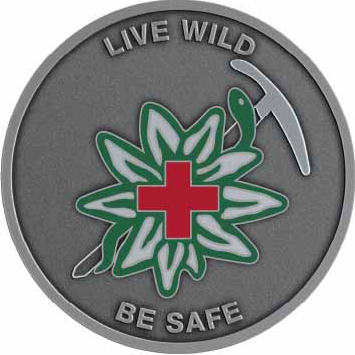 Last updated Jul 01 2018 by cak