Once upon a time, I designed a challenge coin. In retrospect, that's not a huge surprise, since I grew up collecting pins from places I had visited (a habit my mother started and encouraged - the earliest ones were all attached to a Tyrolean hat).
But really, the story begins before the coin itself - once upon a time, I designed a logo for a SAR team - a SAR team that didn't exist.
The story starts at the Porcupine Pub & Grill at the bottom of Big Cottonwood Canyon. It had been a fine day of skiing and we were having suitable libations and I noticed a lot of really finely made carved wooden signs on the walls. Upon further inspection, they were all for sale. I loved the work, but none of the subject matter spoke to me, so I took down the contact information. When I got home, I looked up the website of BAN Supply Co. and noticed that they did custom designs. That got the wheels turning: if I were to have a sign of this style, what would I want on it?
I had been a member of the Bay Area Mountain Rescue Unit for many years at this point. I've never really liked the logo, in no small part because it depicts the double-snake Caduceus instead of the single-snake rod of Asclepius. (That is a rant for another day.) So I set out to design a logo for a non-existent SAR team that combined elements that were personally meaningful. After a few design iterations with Nate and a reasonable waiting period, I received a complete stunning finished piece which hangs in my living room.
Time passed, and there came a point where I thought that I would have to retire from BAMRU because of my spinal problems; BAMRU has made a huge difference in my life and I wanted to give back some kind of physical token of gratitude. Challenge coins had started making their way into the world of SAR teams, and I decided it would be fun to make my own. Then I had a change of heart (about retiring) but still liked the idea of making them ...
I have always liked the Hobbit tradition of giving gifts to others on one's birthday. I had a birthday coming up, and realized that I could repurpose the project for that. Most of them still went out to the BAMRU folks who attended our SAR Basic training that year, to start, but I have lots more that I give out from time to time. I carry mine always, as a good luck charm. Others carry it with their backcountry ski gear for good snow.
What's a challenge coin, you ask? https://en.wikipedia.org/wiki/Challenge_coin
What's it good for? That depends ... but a coin check can be fun.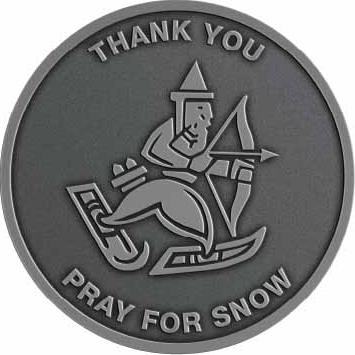 Who's that on the front? Ullr
This guy kind of hates on Ullr as the god of snow, but at least connects him to skiing...
Chances are that it's really Skadi, after all, but who knows? Ullr is firmly rooted in the skiing tradition. That's my story and I'm sticking to it!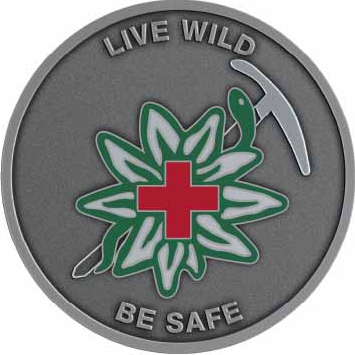 Roger Strong was caught in an avalanche in Snoqualamie Pass in 2012; he hit a tree, and it tore his tibias from his femurs. A year to the day from the accident, he returned to ski the Slot Couloir. That film is where I first encountered "Be safe, but live wild".
Last updated Jan 14 2023 by cak